One Community, Many Stories began as a campaign called One Book, One Community in 2014, when we wanted to contribute to a community effort promoting reading as a family. Since then, we've had a campaign every other year with the goal of encouraging people to read and talk about common books.
For 2022, our theme is simple: books that celebrate a love of reading and the library. We have four featured titles –
one each for adults and teens, and two for children. We can't wait to celebrate our love of reading and the library with you!
Pick up a One Community, Many Stories booklet at any MCDL location. This guide for readers has more information about the books and authors, discussion questions, additional reading recommendations, and events for all ages.
Adult
The Reading List by Sara Nisha Adams
An unforgettable and heartwarming debut about how a chance encounter with a list of library books helps forge an unlikely friendship between two people in a London suburb.
Download discussion questions and reading list activity.
Teen
Almost American Girl by Robin Ha
A graphic novel memoir about a Korean-born, non-English-speaking girl who is abruptly transplanted from Seoul to Huntsville, Alabama, and struggles with extreme culture shock and isolation, until she discovers her passion for comic arts.
Meet the author! See below for details.
Download activity sheet.
Middle Grade
The Wishing Spell by Chris Colfer
Alex and Conner Bailey's world is about to change in this fast-paced adventure that uniquely combines our modern-day world with the enchanting realm of classic fairy tales.
Download activity sheet.
Picture Book
Nia and the New Free Library by Ian Lendler
This picture book tells the story of one girl who reminds an entire town of the joy of books.
Download activity sheet.
Events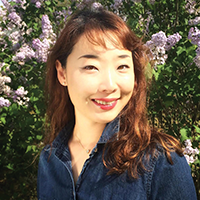 Author Visit with Robin Ha
Fri., Apr. 22, 7:00 pm, Medina Performing Arts Center, Main Stage, 851 Weymouth Rd., Medina
Free event; no registration required; book signing to follow; event details
Robin Ha  was born in Seoul, Korea, grew up reading and drawing comics, and moved to the U.S. at fourteen. She has a BFA in illustration from the Rhode Island School of Design and started her career in the fashion industry. Her blog, Banchan in Two Pages, features Korean recipe comics. She lives in Falls Church, Virginia.
Browse titles by Robin Ha
Check out all the additional events the library has to offer.