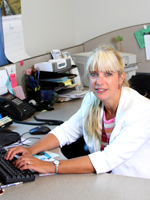 Outreach Services' mission is to provide and enhance access to library materials and services for those with limited physical access to our libraries through home delivery or Bookmobile service.
Pictured: Ann Plazek, Outreach Manager.
Bookmobile


MCDL's new Bookmobile debuted in August 2021. It's filled with books for all ages, large print materials, magazines, audio books, music, movies and more. With numerous stops a week, the Bookmobile is sure to visit a neighborhood, senior living center or other community gathering place near you.
Housed at:
6625 Wolff Road
Medina, Ohio 44256
Contact us:
Phone: 330-722-2590
Fax: 330-723-6148
Get Directions
Home Delivery
Can't come to us? We'll come to you! Get monthly deliveries of regular or large print books, audiobooks, movies, music and more. Service can be short or long term and is available to patrons in their home or at senior living communities.
Multiple delivery options are available:
Library Staff who provide a No Contact Door Drop Delivery
Books by mail
Family member who picks up delivery from branch library
Book Mate Volunteer who has time to visit when delivering materials
Apply online or print the application. To assist library staff in making selections please complete the Outreach Interest Survey
To find out if home delivery service is right for you or someone you care about, call 330-722-2590.
Watch a video about our current Outreach Services
Accessibility
Magnifier Kits
Decide what works best for you with a kit full of quality reading magnifiers. Kits check out for two weeks and include multiple styles and magnification strengths.
Magnifier kits include:
Bar Magnifier - 2X magnification
Full-page Sheet Magnifier - 2X magnification
Dome Magnifier - 4X magnification
Handheld Magnifier with Light - 5X magnification
Stand Magnifier with Light - 5X magnification
Full-page Sheet Magnifier - 2X magnification
MonoMouse Magnifier for use with a television - 14X magnification
Check Writing Template
Envelope Address Template
Reserve a kit or call 330-723-2463.
After trying our magnifiers, you may find one that suits your needs. In that case, we suggest you contact your eye care provider or the following resources if you are interested in purchasing.
The "Eye-Dea" Shop Cleveland Sight Center
1909 East 101st Street, Cleveland, Ohio 44106
216-791-8118 (main) 216-791-1101 (fax)
email@clevelandsightcenter.org
Bierley Electronic Magnifiers
1-800-985-0535
www.bierley.com
Talking Book Program
Free recorded books, magazines and playback equipment are available by mail to eligible Ohio residents who are blind, visually impaired, physically disabled, or reading disabled.
Call 330-722-2590 to have a library staff member assist with enrollment or get the application from the State Library of Ohio.
Pop-Up Library
Library service is popping up at a community event near you.
At a Pop-Up Library you can:
Apply for a library card
Check out books and more
Learn to download from MCDL's eMedia Collection
Request a Pop-Up Library for your next community event.
Senior Activities

Staff present a variety of programs to senior care facilities. We offer book clubs, Armchair Travel presentations, memory activities and more. Call 330-722-2590 to schedule.

Now is a difficult time for seniors who may be isolated from their family, friends, or the activities they used to engage in. Learn more about ways to combat isolation with this helpful document.
Memory Care Kits
Kits include a support book for caregivers, adult picture book, music CD and activities. Kits are designed for anyone caring for an individual experiencing memory loss and are available for check out at your library.