Brunswick Library
Abstract Art by Mike Rozack
June 13 - 18 - Explore abstract art paintings.
Vintage Artists
June 24 - July 22 - Selection of paintings from a group of senior citizens who enjoy creating art and sharing it with others.

Buckeye Library
No shows at this time, check back for future shows.

Highland Library
Granger Elementary Art Show
June 13 - 27 - Students share work created to celebrate the Granger Bicentennial.
Two Moms and a Paint Brush
July 1 - 30 - Leslie Conder and Angela Glasser share their exploration into acrylics and oil paints.
Highland High School Alumnae Art Show
Aug. 13 - 27 - Open to all alumnae. Contribute, share, and show your talent.

Lodi Library
YAM Exhibition
June 1-30 - View works from Ohio Art Education Association's Youth Art Month.

Medina Library
B. Smith Gallery
Seasons: Between the Branches
May 23 - June 19 - Inspired by nature and the change in seasons, Wendy Luedy's landscape paintings depict Ohio barns and Michigan's beauty.
The Perfumery
June 27 - July 24 - Paintings in acrylic and oil by A.E.F. Richardson.
Interlaced Art
Aug. 1 - 28 - Women in Art share works in a variety of mediums that reflect their friendships and individuality.
Gallery Spaces
Medina County District Library features four premium art galleries able to display the work of talented artists.
Medina Library Gallery, known as the B. Smith Gallery, is located on the third floor of the library. The gallery hosts monthly shows in a beautiful space filled with abundant natural light. The gallery hosts national shows, the Medina County Art League's annual Aquarius show in February, and exhibits from local artist and groups.

Thanks to the Medina County Arts Council, the B. Smith Gallery now houses an art display case that allows three-dimensional art to be safely shown.
Highland Library Gallery features exhibits in partnership with the Cliffside Artist Collaborative and other local artists.
Lodi Library and Brunswick Library Galleries are located in the libraries' Community Rooms.
Interested in showcasing your art at one of MCDL's four gallery spaces?
Please view this link Exhibit Policy. If you have future interest or questions, please email art@mcdl.info.
Medina County District Library locations feature beautiful, original art on permanent display within the libraries.
Here is a sample of the featured art you will find in MCDL locations.

Mapleside
by Charles Basham
Brunswick Library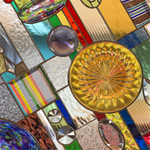 Unusual Weather
by Bob Pozarski
Brunswick Library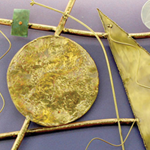 Untitled
by Kathy Lapso
Buckeye Library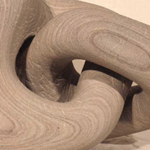 Want
by Bruce Biro
Buckeye Library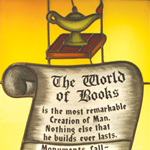 The World of Books
by John Ascherl
Highland Library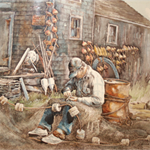 Franklin Bates Collection
by Franklin Bates
Lodi Library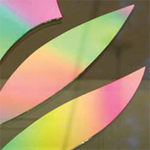 Untitled Dichroic Glass
by Leonard Marty
Lodi Library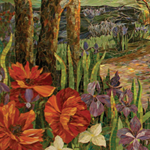 Chippewa Creek:
Spring Continuum
by Yulia Hanansen
Medina Library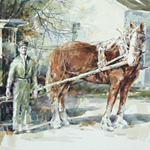 Elm Farm
by Frederick C. Graff
Medina Library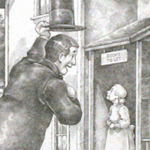 The Giants of Seville
by Dan Andreasen
Seville Library
The MCDL Art Guide, available at all locations, allows art lovers to tour the libraries, enjoying the art and learning about the pieces along the way.