Brunswick Library
Middle School Fall Show
Nov. 1-30 - Brunswick Middle School students display their creations.
St. Ambrose Student Art Show 
Dec. 11-17 - Students showcase their artwork.
Buckeye Library
No shows at this time, check back for future shows.
Highland Library

Medina Weaving Guild Art Show
Oct. 1 - Nov. 30 - Connect through all aspects of fiber arts.
Through the Lens of Mathew Conder
Dec. 1-29 - Mathew Conder shares his artistic vision through the medium of photography. 
Mandala Art for Healing 
Jan. 3-31 - Renew your spirit and health through Mandala designs. 
Lodi Library
The Garden of Dreams & Wanderings 
Dec. 1-29 - A.E.F. Richardson is a self-taught painter and potter. Her paintings are often inspired by music, literature, and the beauty of Medina County.  
Medina Library
B. Smith Gallery
Blake Student Art Show
Nov. 14 - Dec. 10 - H.G. Blake Elementary artists showcase mixed media artwork.
Seasons
Dec. 19 - Jan. 22 - Cuyahoga Valley Area Plein Air Painters show their spontaneous plein air studies alongside their more polished studio paintings.
19th Annual Aquarius Exhibition
Jan. 30 - Mar. 5 - View Medina County Art League members' works in this popular show.
Seville
Mini Masterpieces Juried Show 
Feb. 7-12 - View a variety of works on tiny canvases.
Reception - Tues., Feb. 7, 5:00 pm
Call for Entries - Jan. 30 - Feb. 4
Pick up and design a tiny canvas anyway you want. Categories include kids, teens, and adults. 
Register online.
Gallery Spaces
Medina County District Library features four premium art galleries able to display the work of talented artists.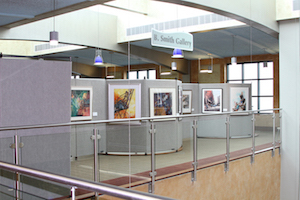 Medina Library Gallery, known as the B. Smith Gallery, is located on the third floor of the library. The gallery hosts monthly shows in a beautiful space filled with abundant natural light. The gallery hosts national shows, the Medina County Art League's annual Aquarius show in February, and exhibits from local artist and groups.

Thanks to the Medina County Arts Council, the B. Smith Gallery now houses an art display case that allows three-dimensional art to be safely shown.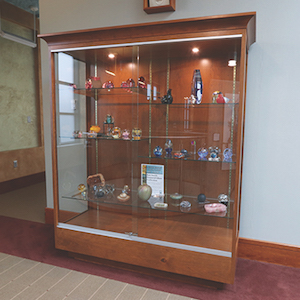 Highland Library Gallery features exhibits in partnership with the Cliffside Artist Collaborative and other local artists.
Lodi Library and Brunswick Library Galleries are located in the libraries' Community Rooms.
Interested in showcasing your art at one of MCDL's four gallery spaces?
Please view this link. If you have future interest or questions, please email art@mcdl.info.
Medina County District Library locations feature beautiful, original art on permanent display within the libraries.
Here is a sample of the featured art you will find in MCDL locations.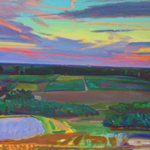 Mapleside
by Charles Basham
Brunswick Library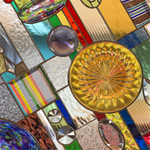 Unusual Weather
by Bob Pozarski
Brunswick Library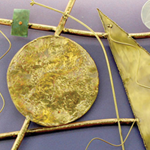 Untitled
by Kathy Lapso
Buckeye Library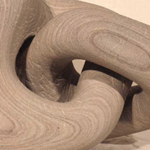 Want
by Bruce Biro
Buckeye Library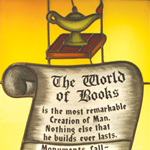 The World of Books
by John Ascherl
Highland Library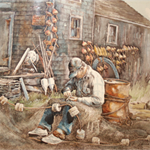 Franklin Bates Collection
by Franklin Bates
Lodi Library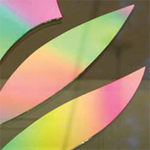 Untitled Dichroic Glass
by Leonard Marty
Lodi Library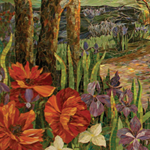 Chippewa Creek:
Spring Continuum
by Yulia Hanansen
Medina Library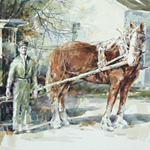 Elm Farm
by Frederick C. Graff
Medina Library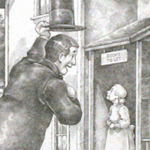 The Giants of Seville
by Dan Andreasen
Seville Library
The MCDL Art Guide, available at all locations, allows art lovers to tour the libraries, enjoying the art and learning about the pieces along the way.