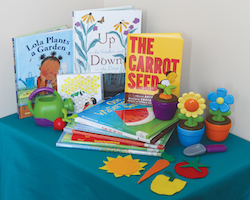 Share the joys of life-long reading and learning with children with MCDL's Early Literacy Kits.
Early Literacy Kits are great to use with children at home or in the classroom. Every kit centers around a topic of interest to young children and contains books, activities, and puppets or toys related to that theme.
Things You Should Know
Check out for two weeks, up to two themes at a time. Kits are nonrenewable and subject to overdue fines. Kits not picked up after three days will be returned.
Themes
Alphabet
Bedtime
Bugs
Caring for Our Earth
Children of the World
Colors
Confidence
Dinosaurs
Fall
Families
Farms
Feelings
Five Senses
Food
Friends & Bullies
Frogs
Gardening
Grandparents & Older Friends
Healthy Me
Jobs People Do
Life Cycles
Manners
Math Concepts
Movement & Dance
Night Animals
Ocean
Opposites
Pets
Rainforest & Jungle
Shapes
Singalong Stories
Spring
Summer
Things That Go
Weather
Winter
Reserve an Early Literacy Kit
Call the Professional Resource Center at 330-723-2463 between 8:00 am and 3:00 pm Monday through Friday, with the following information:
Theme(s) to be borrowed
Your name, library card number & phone number
Date & Library for pick up
or complete the following form: