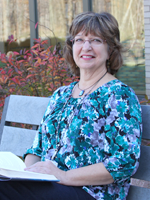 The Highland Library is over 12,000 sq. ft. and is surrounded by woods and wetlands. The stunning views from the windows of the library provide a relaxing setting for reading or studying. The library's location next to the Highland High School and near the Middle School will help get students on the path to a lifelong love of reading. Pictured is the Manager of Highland Library, Diane Dermody.
4160 Ridge Road
Medina, OH 44256
Get Directions
330-239-2674 and
330-278-4271
Hours starting June 15
Monday, Wednesday, Friday and Saturday 10:00 am – 3:00 pm
Tuesday and Thursday 3:00 pm – 8:00 pm
The first hour of each day is encouraged for vulnerable populations.